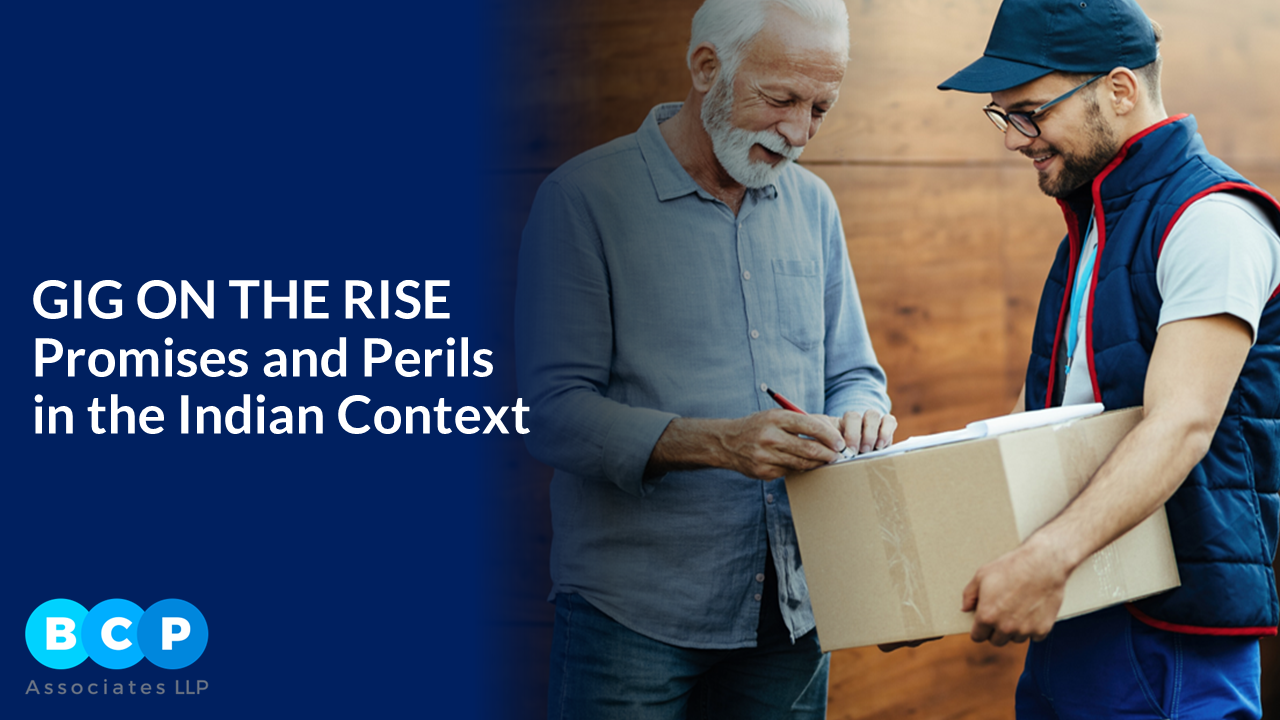 In the unfolding landscape of modern labour dynamics, the ascendancy of "gig work" and "platform work" assumes a remarkable centrality, illuminating the prominence of unstructured labour. Defined within the parameters of the Social Security Code of 2020, a "gig worker" embodies the modern professional who embraces non-traditional work arrangements beyond the confines of conventional employer-employee relationships. Similarly, "platform work" unveils a virtual realm where individuals and entities converge through digital platforms, to provide specific services or solve problems in exchange for compensation. These definitions not only signify a seismic shift from traditional labour paradigms but also beckon a refined exploration into the intricacies and merits that mould the journeys of these contributors.
According to the NITI Aayog, the gig workforce was approximately 7.7 million individuals during the fiscal year 2020-21, with projections suggesting an exponential surge to reach a staggering 23.5 million by the fiscal year 2029-30. However, this meteoric rise has also cast a spotlight on the challenges faced by gig workers, prompting protests and increased lobbying by gig workers' unions aimed at advocating for enhanced wages, benefits and improved working conditions.
Issues Confronting the Gig Economy
The gig economy in India is marked by a myriad of hurdles, significantly impacting the lives of its participants. From the absence of social security benefits to the lack of safety nets, gig workers contend with a range of issues that demand attention and resolution. Several key issues facing gig workers today are below (though not exhaustive):
Lack of Permanence and Social Security: Gig workers are deprived of essential social security benefits due to the absence of permanence in their work arrangements.
Safety Disparities: Compared to permanent employees, gig workers face greater vulnerability to injury or illness, lacking adequate safety provisions.
Digital Divide and Access Barriers: Those without ready access to technology and internet resources find themselves at a significant disadvantage in the digital-centric gig landscape, perpetuating economic disparities.
Compensation Challenges: Gig workers in India often contend with reduced wages and lack legal protections, further amplifying their vulnerability.
Instability and Job Security: The bedrock of employment stability is absent in the gig realm, where tenure and job security remain elusive.
Fluctuating Incomes: Absence of fixed pay structures leads to uncertain and fluctuating incomes for gig workers.
Lack of Comprehensive Research: The gig economy in India suffers from a dearth of comprehensive research, hindering policymakers' understanding of its full scope and impact.
Challenges in Policy Formulation: The absence of informed insights poses a significant challenge in crafting effective policies to alleviate the struggles faced by the gig workforce.
Gig Economy Empowerment: Karnataka's Progressive Stance
In a significant move, the Karnataka Budget has extended a substantial boost to the gig economy by introducing a commendable provision: a free insurance cover of INR 4 lakh for gig workers. This laudable step envisions the establishment of a dedicated 'Gig Workers' Welfare Board' for Karnataka, backed by an initial allocation of INR 3,000 Crores. The visionary outlook of this initiative is well-founded, considering the soaring trajectory of the gig economy. Implementation remains pending, lingering in anticipation.
Alongside Karnataka, Rajasthan joins in offering social security and insurance benefits to gig workers. The recently passed Rajasthan Platform Based Gig Workers (Registration and Welfare) Bill 2023 intends to introduce a welfare board and a social security fund dedicated to platform-based gig workers, ensuring their enhanced protection and well-being.
The Rajasthan Platform-based Gig Workers (Registration and Welfare) Bill, 2023
The Rajasthan Platform-based Gig Workers (Registration and Welfare) Bill, 2023 represents a significant stride towards safeguarding the rights and welfare of gig workers in the absence of comprehensive labour codes. Passed in the Rajasthan Legislative Assembly on July 24, 2023, it establishes a pioneering framework for social security schemes tailored specifically for gig workers. The bill mandates the creation of a board with balanced representation from both gig workers and aggregators, as well as key departments like Labour, Information Technology, Social Justice and Empowerment, Transport, and Finance. This board assumes the crucial role of central authority, responsible for registering gig workers and aggregators, overseeing cess deductions, instituting robust monitoring mechanisms, and designing and implementing vital social security schemes. Additionally, it is vested with the responsibility of ensuring timely resolution of grievances, collaborating with registered unions affiliated with platform-based gig workers, and conducting regular open consultations. Rajasthan emerges as a pioneer in advocating for the welfare and protection of gig workers, setting a promising precedent for other regions to follow suit.
Jharkhand joins Rajasthan in extending Minimum Wage Requirements to Gig Workers
After Rajasthan, Jharkhand too is taking much-needed steps towards incorporating gig workers into the framework of minimum wage regulations and other Social Security benefits. A committee, convened by the Jharkhand State Minimum Wage Advisory Council under the state's labour department has been established to tackle this crucial issue. This committee's primary goal is to thoroughly examine the working conditions of gig workers, including those involved in delivery and ride-hailing services. Based on their findings, the committee will offer recommendations regarding minimum wages for these workers. It is estimated that approximately 12 lakh individuals are currently engaged in gig work across various districts of Jharkhand, underscoring the profound impact of this initiative in improving the livelihoods of a significant portion of the gig economy.
Upsides under the Social Security Code, 2020
The proposed Code on Social Security, 2020 is a crucial initiative that provides social security benefits to gig and platform workers. This includes:
Initiative for Gig and Platform Workers: Offers social security benefits tailored for gig and platform workers.
Comprehensive Benefits: Includes life and disability cover, accident insurance, crèche, health and maternity benefits, and old age protection.
Implementation through Established Organisations – EPFO and ESIC: Utilises established bodies like the Employees' Provident Fund Organisation and Employees' State Insurance Corporation for implementation.
Funded by Aggregators: Funded through contributions from aggregators in the gig economy.
Toll-Free Helpline: Establishes a toll-free call center, helpline, or facilitation center.
Registration Assistance: Provides information and assistance with the registration process.
Societal Benefit: Benefits society at large by promoting a secure work environment.
This digital revolution has not only streamlined interactions between labour and businesses but has also provided a platform for adaptable work arrangements, aligned with evolving processes. The upsurge of driven and educated workers in pursuit of extra income has further fuelled the gig economy's expansion, especially in tandem with the surging demands of e-commerce, notably within delivery and logistics domains.
As we contemplate these gains, it's imperative to recognise the benefits that will arise when the Social Security Code, 2020 comes to life. This development will help gig workers by affording them benefits akin to those of their permanent counterparts, marking a significant stride toward parity. The realisation of these assurances hinges upon rigorous and comprehensive execution. While the undeniable potential of the gig economy to reshape employment models stands, ensuring the protection of these very workers is a top priority. It is only through a collective interplay of policy, industry synergy, and regulatory vigilance that we can effectively harness the benefits of the gig economy, concurrently fostering an atmosphere of equity, security, and shared affluence.
-Sourabha Venkatesh, 
Advocate