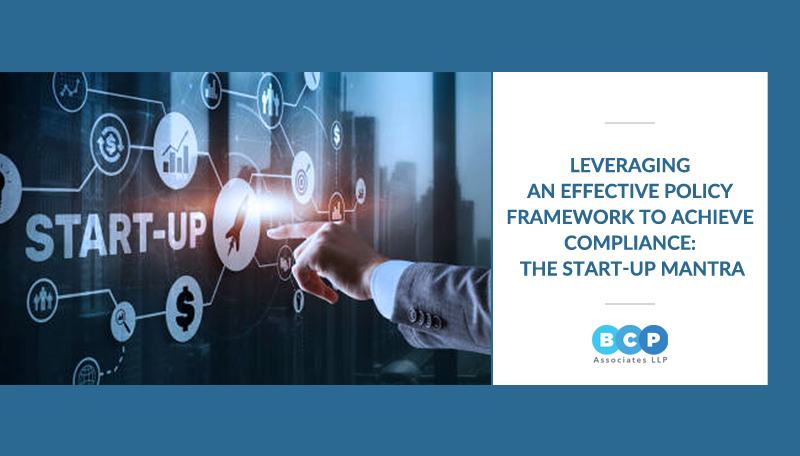 In recent times, the Indian startup landscape has made remarkable progress. Fuelled by the emergence of digital technologies and a surge in young entrepreneurs, India has established itself as the 3rd largest hub for startups globally[1]. With a flourishing economy, increasing technological innovations disrupting traditional business models and a vast reservoir of talented individuals, Indian startups have tremendous opportunities in several promising sectors like fintech, e-commerce, renewable energy, health technology, cutting-edge technology, and eco-friendly transportation. The Government of India, along with the State Governments, has played a crucial role in creating an environment conducive to the advancement of startups in the country.
In addition to addressing the concerns related to funding, resources and business scaling, startups must also pay heed to ensure compliance with all applicable legislations from the outset. Upon commencing operations and engaging employees, startups must prioritize compliance with labour law legislations, which become applicable from the outset and are a crucial but oft-neglected obligation of employers. An effective and well-thought-through policy framework, coupled with leveraging relaxations provided by the Government, holds the key to optimal compliance.
Applicability of Labour Laws to Start-ups
Start-ups are required to comply with all labour laws that are applicable to any other entity, based on the nature of activity – either a factory or an establishment. The number of laws that apply can be as many as 28 at any given point in time.
Achieving Optimal Compliance by Building an Effective Policy Framework
In addition to fulfilling the requirements of applicable labour legislations, startups should draw up and implement policies/procedures that align with the philosophy of the organization and also help the organization align with the requirements of law, including providing benefits that exceed the requirements of law. Furthermore, the appointment letter and other documents should be drafted in a manner which includes all the essential elements to protect the interests of both the organization and its employees. These need to be prepared with professional advice to obviate the possibility of any issues cropping up at a later date.
Startup companies often tend to either emulate policies of established companies or adopt policies of their global parent or holding company. However, this approach can create challenges for both the organization and its employees, as these policies may not align with local cultural values, business practices and regulations prevalent for startups in India. Additionally, adhering to global or emulated policies can result in non-compliance with local statutory requirements. In some cases, this can lead to impractical situations for startups, as they may find themselves catering to standards that are not applicable or feasible for their specific context.
The Government's Role in Promoting the Growth of Startups
To foster startup growth and reduce compliance burdens, the Government of India has granted startup establishments the ability to self-certify compliance for the following labour legislations:
The Building and Other Constructions Workers'(Regulation of Employment and Conditions of Service) Act, 1996
The Contract Labour (Regulation and Abolition) Act, 1970
The Employees' Provident Funds and Miscellaneous Provisions Act, 1952
The Employees' State Insurance Act, 1948
The Industrial Disputes Act, 1947
The Industrial Employment (Standing Orders) Act, 1946
The Inter-State Migrant Workmen (Regulation of Employment and Conditions of Service) Act, 1979
The Payment of Gratuity Act, 1972
The Trade Unions Act, 1926
A startup is defined by the Department of Industrial Policy and Promotion "as an entity, incorporated or registered in India not prior to 5 years with annual turnover not exceeding Rs. 25 crores in any preceding financial year, working towards innovation, development, deployment or commercialization of new products, processes or services driven by technology or intellectual property". Accordingly, entities satisfying these requirements are eligible for the self-certification schemes.
Self Certification Scheme for Central & State Labour Laws
Additionally, the Government of India has instructed State Governments to implement self-certification schemes for startups, thereby reducing the compliance burden. Consequently, State Governments across the country, including those regions hosting major IT and manufacturing hubs such as Karnataka[2] (Bangalore), Telangana[3] (Hyderabad), Tamil Nadu[4] (Chennai & Coimbatore) and Haryana[5] (Gurgaon), have extended the option of self-certification under both state-specific and central labour law legislations with enforcement authorities operating under the purview of the state government.
Under the above-mentioned schemes, startup establishments are required to self-certify their compliance status using the format provided by the central government for central labour law enforcement[6] such as the Employees' Provident Funds and Miscellaneous Provisions Act, 1952, the Employees' State Insurance Act, 1948 among the 6 labour laws mentioned in the notification and respective state governments for enforcement of state labour legislation[7] such as Shops and Commercial Establishments Act (as per the applicable jurisdiction), Maternity Benefit Act, 1961 among others. Once self-certified, these establishments will be exempt from inspections by enforcement authorities for a period of 5 years. However, if any complaints regarding non-compliance with labour law legislations are received during this period, the enforcement authorities may conduct an inspection of the startup establishment.
The use of a strong and efficient policy framework has proven to be a potent tool to achieve the dual goals of compliance and achieving business objectives of the company, especially in an emerging market like India. The dynamic business scenario coupled with the volatility of the workforce is aptly addressed through policies that balance the employer and employee interests while allowing employees sufficient flexibility and benefits to ensure retention.
While self-certification schemes provided by both central and state governments offer a certain level of flexibility for startups, this should not be misconstrued as a license to disregard compliance with labour law legislations. Neglecting compliance obligations can potentially lead to significant non-compliance issues, which may be reported to the authorities by any concerned stakeholder. Once a complaint of non-compliance is lodged, the startup establishment could come under the scrutiny of the enforcement authorities, resulting in multiple inspections and the implementation of stringent enforcement measures. Hence, it is crucial for startup establishments to maintain a diligent and proactive approach towards adhering to applicable labour law legislations.
To mitigate the risk of such situations, startup establishments must prioritize compliance by establishing policies and procedures that align with their operational functions, such as the human resources team, finance/payroll team and others. In order to create a conducive environment within the organization, it is advisable for startup establishments to seek periodic guidance of legal professionals who specialize in labour and employment law. By doing so, the establishment can ensure that its compliance standards are effectively maintained, promoting employee satisfaction and fostering a workplace where the entire workforce is focused on productivity and profitability. An added advantage of maintaining good compliance standards is fund houses view this as a positive during scrutiny and due diligence activities. This proactive approach not only safeguards the startup establishment from potential non-compliance issues but also cultivates an atmosphere conducive to growth and success.
-Mohamed Faheem
 Advocate & Associate