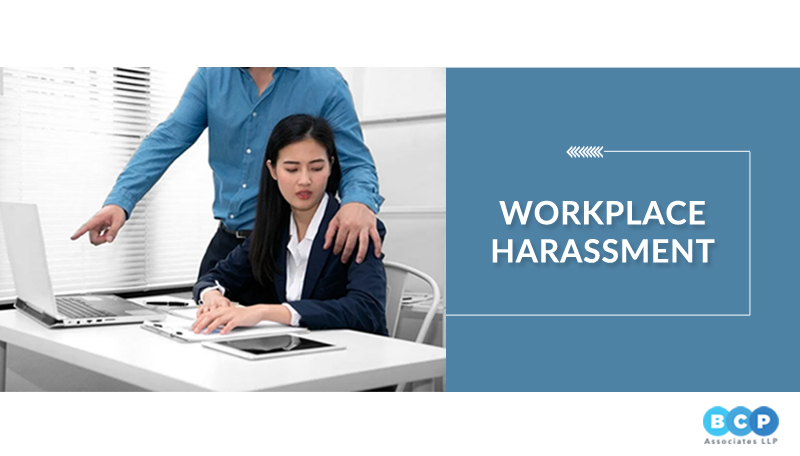 In our previous blog – Workplace In The New Era, we addressed issues at the workplace in the current pandemic situation, its impact and its influence on employees. In continuation of the earlier article, this article addresses issues relating to harassment and the various forms of harassment, focusing on workplace harassment.
Harassment is a behaviour that is offensive in nature. Harassment is a serious offence and must be handled swiftly and in an appropriate manner
Workplace harassment is belittling or threatening behaviour directed at an individual worker or a group of workers. Workplace harassment is also known by many other names. "mobbing", "workplace bullying", "workplace mistreatment", "workplace aggression", "workplace molestation" and "workplace abuse" are all either synonymous or belong to the category of workplace harassment. Workplace harassment includes different types of discrimination and acts of violation that are not confined to one specific group. All the forms of workplace harassment target various groups, including women, men, racial minorities, homosexuals, people with disabilities, and immigrants. Workplace harassment can be based on gender, culture, ethnicity, language, religion, sexual orientation, etc. Sometimes workplace harassment is also based on the tenure of the individual in an organization. In essence, workplace harassment requires a pluralistic understanding, because it cannot be delineated in one coherent and concrete definition.[i] Workplace harassment may take place with an intention to have fun, but its impact is very threatening and traumatic. Strict disciplinary action needs to be taken by the organizations for any kind of workplace harassment.
Forms of Workplace Harassment
Racial Harassment: Racial Harassment at the workplace occurs when an employee is discriminated against on the basis of their skin colour, race, caste, creed, physical appearance, or ethnicity. If an employee engages in unwelcome conduct towards another or offends or humiliates even though it was not intentional it amounts to Racial Harassment. If such harassment is done by a group of colleagues, then it will amount to a hostile environment. Posting racial/offensive pictures or posters in WhatsApp groups or various other social platforms amounts to workplace harassment. Examples are accents, appearance, custom, belief, or clothing, passing racist jokes, banter or taunts, racially derogatory remarks, etc. Racial Harassment also includes religious harassment and disability-based harassment.
Verbal Harassment: Verbal Harassment is a very serious problem faced by the employees in an organization. This kind of harassment may be from one or more co-workers or employers. People react differently to verbal harassment. Some may take it lightly, but some may have a more serious impact on themselves. Examples like inappropriate jokes, comments, teasing, abusing, gossiping and spreading lies, causing embarrassment in front of others, etc.
Physical Harassment: Any inappropriate touch which makes another person uncomfortable or feels threatened is physical harassment. This type of harassment includes improper touching of skin, hitting, slapping, fist fighting, pushing, hugging inappropriately, brushing against another person, leaning on someone, shaking hands tightly for a long time are forms of physical harassment. Any employee could physically harass another employee(s) in order to receive sexual favours.
Psychological Harassment: When a person is being constantly harassed, he/she will be mentally affected and such harassment is known as psychological harassment. It is more complex when compared to other kinds of harassment. Their behaviour when repeated turns out to be more serious in nature like creating a hostile environment for an employee, affecting the dignity and efficiency at work. The behaviour includes humiliating, abusive, or offensive acts against the person. Such gestures may be unwanted behaviour even though the person does not complain or raise a voice against such acts. When a person has been harassed such a working environment will no longer be productive to do their job efficiently.
Gender Harassment: Harassment or discrimination based on gender or sex is known as Gender Harassment. This is a stereotype of thought in the mind of people where they think or categorize work based on gender. For example, a male flight attendant is harassed for perceiving the role as a women's job primarily. Female driver harassed for taking up men's job as her driving skills are not that good.
Virtual Harassment: Employers are embracing new technology in order to appeal to younger employees and reap the benefits of a digitally connected world. Remote working, flexi-commute, and working from home have considerably increased over the years. This has resulted in virtual harassment and cyber-bullying.
Sexual harassment: Sexual harassment is a form of harassment that is sexual in nature and generally includes unwanted sexual advances, conduct, or behaviour.
Sexual Harassment may be any unwanted physical contact or advances which could be intimidating or sexual in nature or any demands for sexual favours. Passing demeaning or sexual remarks, forcefully showing pornography, or unwanted abusive, sexual or physical conduct are various forms of Sexual Harassment.
A few commonly asked questions are:
Do I need to dress formally or in business casuals while I am working from home?
It is recommended that employees working from home should dress appropriately, as, in certain meetings, companies expect employees to be on Video mode. The dress code may not be formal wear but must be smart business casuals
Is there a requirement to schedule a formalized calendar meeting for discussions, with my colleagues or a text will do?
As we are working from home, we tend to get involved in chores and working hours are not fixed, hence it is always preferred to schedule a formal meeting with colleagues or members from different teams. Also, text messages are casual and may not be acceptable to all.
Do we adhere strictly to business hours?
Yes, it is recommended; however, in this pandemic situation, when most of us are working from home with challenges to get the work done on time virtually, there remains a high possibility for the employees to extend the usual working hours as the boundaries between work time and personal time are blurred.
How do I, as a manager, know that my team member is working effectively 8 hours a day?
In this virtual situation, managers should change their operating rhythm to get the most from the team in this work-from-home environment. Managers should focus on task completion of his or her direct reports other than monitoring working hours. The number of tasks completed in 8 hours should define the efficacy of the employees.
How is performance measured and performance coaching carried out?
Performance measurement pertaining to present work from home situations should be more inclined towards task completion rather than sticking to any specific working hours. As virtual working is always challenging because of a lack of effective collaboration and human connection, it is all the more important now to focus on effective completion of tasks as well as maintaining one's personal life. As for coaching, it is crucial to encourage learning, which can help the employees to be more productive.
In the current pandemic times, the emphasis by organizations should essentially be on adapting to the new normal. WFH and other forms of remote working are definitely here to stay for the foreseeable future. It is imperative for employers to take cognizance of this fact and enable their leaders, managers, and employees to inculcate best practices to ensure that the workplace under this new normal is inclusive, supportive and respectful to one another.
– Srijata Ghosh, Advocate
– Priyanka S. Rodrigues, Advocate